Wharton Portable Buildings Lake Jackson
, Texas

History of Lake Jackson
by A. A. MacLean
City Manager 1956-1991

Lake Jackson, "City of Enchantment", originated in 1941 when the great push was on to build the Dow Plants. Dr. A. P. Beutel, first General Manager of Dow's Texas Division, had an idea which was to prove fateful to the history of Brazoria County...

Facing a basic decision as to what could be done to provide living accommodations for the thousands of Dow employees already here and the thousands more to come, Dr. Beutel took a carload of his fellow Dow directors over bumpy country roads to the site of the old Lake Jackson Plantation. He stopped the car and said, "What we ought to do is build a complete new town here!" This was the beginning of the City of Lake Jackson. The Dow Board of Directors agreed with him that a new community offered a better solution to the problems than attempting to develop additional areas of the already existing Brazoria County towns.

Mr. Alden B. Dow was one of the people whom Dr. Beutel took with him that day, and Mr. Dow began planning Lake Jackson. The location for the City of Lake Jackson was chosen because of the protection offered from Gulf storms, an elevation which made possible good drainage, and because of its natural scenic beauty. This city of 1300 acres was carefully planned on paper before the first ax was struck into a Live Oak, before the first spade full of gumbo saw the sun and before a single nail was driven. Actual construction of the City of Lake Jackson got underway on December 8, 1941, although machinery and equipment were being moved in on December 7th, Pearl Harbor Day.


Three hundred American and Mexican woodsmen, six bulldozers, thirty mules and five draglines began cutting, clearing and digging through the forestland. Oak Drive was the first street to be carved out of the thickly grown forest of gigantic, arching Live Oak, and Elm Trees festooned with Spanish Moss, shadowing Yaupon, Pin Oak, Ash and Elder Hackberry, Bois D`Arc and occasionally a thick butted Cypress. Rain and trees posed a real problem for construction workers back in 1942. Rain fell in torrents during August causing excavation for utility mains to take on the appearance of small canals. Architect Alden B. Dow, in preparing plans for Lake Jackson, specified that as many of the trees as possible be spared when the streets and parkways were laid out. When the time came to put down gas mains and to pave thoroughfares, certain trees were marked and crews were given strict orders not to uproot or damage them. Keeping clear of the trees was not very difficult, but staying away from the far reaching root systems was quite a problem. Today, of course, these trees give Lake Jackson a personality all its own. The streets were finally cut and concrete poured. The streets, drives and ways are laid out so that they give easy access to the center of town with a minimum of traffic hazards. The curved streets lend individuality to every lot. The city, which appears to be a maze to the average stranger, was in reality a simple system to the designers. The 'drives' go around the outskirts and are through-traffic highways; the streets end at either the 'drives' or the 'ways'; and all 'ways' lead to the downtown area. Center Way is located in the center of town. Circle Way circles the business district. And there are those unusual streets (This Way and That Way) which have caused so much comment. Of course, the growth of recent years has extended these early boundaries, yet the principle of the design remains useful to many traveling residents.

Other streets are named for flowers, fruits, shrubs, and various types of trees. In January of 1943, the 200 units of the Oak Wood Project, built by FPHA were being completed and readied for occupancy. On January 26, 1942, the first pioneer family moved into the project on Trumpet Vine Street. The "pioneers" fought mosquitoes, walked through seas of mud, bought their groceries from Clute and Freeport, and picked up their mail at the "Trailer Branch" near Dow Plant B. But in the same breath, they will tell you that they were truly happy pioneers. Here among the peaceful, moss-covered oaks, they saw the promise of a more challenging and happier way of life.

In March of 1943, the first grocery store was opened. Also, about this time, the Humble Service Station opened, and on June 7, the Proctor Walgreen Drug Store (later named Lake Drug) opened. These formed the nucleus for the business district to come. By early summer of 1943, the duplexes were filled and people were moving into individual houses of Area B, bounded by Winding Way and Camellia Street. Late in 1943 and early 1944, the houses in Area C began to be occupied and the population increased from zero on January 1, 1943 to about 1800 by April, 1944. On March 14, 1944, the City of Lake Jackson was incorporated and the streets, parks, water and sewer system, fire equipment, etc., were later given to the City by the Dow Chemical Company. By then, the happy pioneers were beginning to accept as a certainty that which they believed from the first: Lake Jackson was a sparkling land of promise with new and better opportunities for all. By 1954, Lake Jackson was large enough to vote for a Home Rule Charter. The 2000 Census population figures were 26,386.



---
---
---
Wharton Portable Buildings of Lake Jackson, TX has Derksen Buildings. Derksen Portable Buildings and sheds are extremely popular in Lake Jackson, Texas because of the quality building and materials used to make their portable buildings.
Lake Jackson
is a city in Brazoria County, Texas, United States, within the Houston–Sugar Land–Baytown metropolitan area. As of the 2010 census, the city population was 26,849.
Wikipedia
---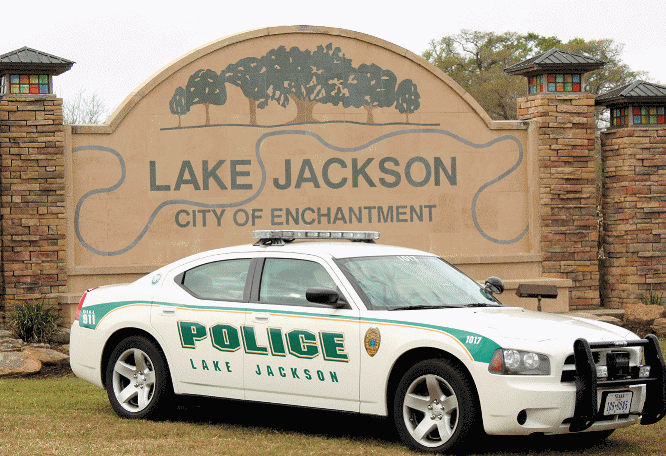 Lake Jackson, Texas Police Department
Americans throw away thousands of dollars every year for rented mini-storages. Wharton Portable Buildings gives you the opportunity to own your storage building with very little down and easy monthly installments, by offering a Rent-To-Own option. Come by our lot to visit with one of our friendly team members and let them help you custom design your new Derksen building or pick your favorite from the inventory at our location in Wharton, Texas.

Ask about our FREE delivery! Make sure you meet all the delivery requirements here. Delivery space is important too.

(979)532-8254
Financing available or Rent to Own

Buy or Rent-to-Own

with No Credit Check!

Rent to own was established as an alternative to commercial storage. The low monthly rental rates are comparable to commercial storage rates per square foot, however, our Rent to Own program allows you to have your storage facility in your own backyard. You are not required to fill out a credit application, nor are you required to keep the building. If your building becomes a financial burden or if for any reason you no longer need the building, simply contact us and we will promptly pick it up and your credit will remain untarnished.
Apply online and get your Derksen portable building delivered now!
Derksen Buildings
Documents must be signed in person.
Please complete our quick and easy online application and we will call you to verify and schedule your delivery.
More Sizes Available!

Our buildings are available in custom sizes. Please contact us today and let us know what size building is right for you. We deliver almost anywhere as long as you meet our delivery requirements. Come to the Derksen Building location in Wharton, TX or give us a call.

(979)532-8254

All prices are subject to change without notice.

Time to get a Derksen Building!
Derksen Portable Building Product Line

---
Carport Sizing Chart:


12' Wide - 1 Car, Truck, SUV
18' Wide - 2 Compact Cars
20' Wide - 2 Mid-Sized Cars, Trucks, SUV's
22' Wide - 2 Full Size Cars, Trucks, SUV's
24' Wide - 2 Full or Oversized Cars, Trucks, SUV's

Options:


Full Gables
Extra Sheets
Service Doors
Extra Height
Windows
Roll-up Doors (6x7 -12x12)
Wind and snow bracing available for all buildings.

Measuring Guidelines:

We recommend that you measure the vehicles to be covered using the following procedure. Measure the width of each vehicle and then add 5' to accommodate the opening of the doors to each vehicle.

Sizes Available in 30' - 40' Wide



| | | | | | |
| --- | --- | --- | --- | --- | --- |
| 12x20 | 12x24 | 12x28 | 12x32 | 12x36 | 12x40 |
| 18x20 | 18x24 | 18x28 | 18x32 | 18x36 | 18x40 |
| 20x20 | 20x24 | 20x28 | 20x32 | 20x36 | 20x40 |
| 22x20 | 22x24 | 22x28 | 22x32 | 22x36 | 22x40 |
| 24x20 | 24x24 | 24x28 | 24x32 | 24x36 | 24x40 |

(979)532-8254

Color Choices:





Black Trim Available Also available in White


Color swatches are approximate and may vary from actual material.
Carports for every use. Come see them at our location or contact us for a delivery!
custom design and installation available
Wharton, Texas Carports are for sale at Wharton Portable Buildings
---
---
Derksen is Simply A Better Choice for your Outdoor Building!
Treated for everyday durability

LP® Smart Side® products are no made of wafer, chip or particle board. In fact, our engineered woods products are made with our Treated Wood strand Technology so you can rest assured your structure will provide years of beautiful service.

Extra Protection, Tested Tough

All LP SmartSide products are treated with our proprietary Smart Guard® process to resist fungal decay and termites in harsh environments. Tested in Hilo, Hawaii, LP SmartSide products continue to resist structural damage, even after years of exposure to thriving termite colonies and excessive moisture!

Beauty that's worth a second look

It takes only one look to notice the rich cedar grain texture and undeniable beauty of LP SmartSide products when compared to typical pine siding It's a premium choice that gives your outdoor structure an attractive custom-built look!

A warranty that protects your peace of mind

All LP SmartSide products feature a 5/50 year limited warranty, one of the best warranties in the industry. You can feel confident that you have made a better choice for lasting durability and beauty.

* 5-year, 100% labor and replacement feature.

* 50-year prorated, limited warranty on substrate.
Wharton Portable Buildings - Wharton, Texas - Derksen Buildings