Wharton Portable Buildings of Sugar Land, TX has Derksen Buildings. Derksen Portable Buildings and sheds are extremely popular in Sugar Land, Texas because of the quality building and materials used to make their portable buildings.
Wharton Portable Buildings Sugar Land
, Texas

---
City of Sugar Land, Texas Website

Sugar Land History


The land in and about the City of Sugar Land was originally owned by the Mexican government and was granted to Samuel M. Williams through Stephen F. Austin. There were several factors which governed Williams receiving this grant, among them was the fact that he spoke Spanish, was well educated, and wrote a fine Spencerian hand. Williams called this land "Oakland Plantation" because there were many different varieties of oaks on the land - Pin Oak, Post Oak, Water Oak, Red Oak, and Live Oak. During this period of time, land grants were measured from one oak to another.



Sugar Industry


Sugar became a part of life in the area when S. M. Swinson, captain of a small freight boat, made a meandering journey along the United States coast from New York to Velasco. Along the journey, commodities were picked up at various points and dispensed of as the journey proceeded. One of the stops was Cuba, and as it happened, it was during the height of sugar cane season. A small load of sugar cane stalks was taken on board and later delivered to Samuel M. Williams. The next time Swinson came to the area, he saw sugar cane growing "as high as a man on a horse" and immediately returned to Cuba to purchase more stalks. Soon after, a mill was built to squeeze the juice from the stalks.

Today, the present refinery is located approximately on the spot where the first mill was built. After the death of Samuel Williams, the family attempted to keep the mill alive; however, this was not possible, and the mill was sold to Benjamin Franklin Terry and William Jefferson Kyle. Kyle was born in Hawkins County, Tennessee, in 1803, and Terry was born in Kentucky in 1821. In 1849, both Kyle and Terry, who were living at the time in Brazoria, left Texas along with 20 or 30 others to go to the gold fields of California. By the time they reached California, they had increased in number and had approximately 60 wagons, two companies of pack mules and two sets of engineers. Terry and Kyle prospected gold in California, making quite a fortune.



Sugar Land


In 1853, they returned to Texas and with a portion of the fortune purchased the "Oakland Plantation" from the S. M. Williams family. The land, rich in sugar cane, was appropriately renamed "Sugar Land." The mill was operated using rollers and mule power and the open-kettle process. Molasses was drained off in troughs to 1,000 pound hogsheads for shipment. The railroad from Stafford to Richmond was built by Kyle and Terry. Plans were to run the railroad from Stafford, where the timber met the prairie, direct to Richmond and would have missed Sugar Land; however, Kyle and Terry paid $25 per acre for 2,500 acres of land, paying $7,000 in cash, with the remaining balance due in a series of notes up to year 1858 at which time the notes were fully paid. The big bend, which is currently in the railroad between Stafford and Sugar Land, is a result of this land purchase and Kyle and Terry's desire to have the railroad run through Sugar Land.

In 1860, the Kyle and Terry properties were valued at $250,000. The Sugar Land plantation passed through other hands in years to follow and was finally purchased from the bankrupt Colonel E. H. Cunningham interests by I. H. Kempner and W. T. Eldridge in 1907, at which time the sugar refining process was expanded to what is now known as Imperial Holly Corp. In 1907, the town of Sugar Land began growing at a rapid rate, with operating expenses amounting to around $50,000 per year.

In the fall of 1959, the heretofore company-owned town began the process of incorporation and on Dec. 15, 1959, T. E. Harman was elected the first Mayor of Sugar Land to serve with five Aldermen. The first City Council meeting was held on Jan. 19, 1960.



Home Rule


The City of Sugar Land was incorporated in 1959 as a "General Law" city and remained such from 1959 until Jan. 17, 1981, at which time a special city election was held for the purpose of establishing a home rule municipal government. Voters approved the adoption of a home rule charter in accordance with the constitution and statutes of the state of Texas. The type of municipal government provided by this charter was known as "mayor-council government," and all powers of the city were invested in a Council composed of a mayor and five councilmen.

In January 1985 pursuant to charter requirements, a five-member charter review commission was appointed and charged with the responsibility of reviewing the operation of the city government and determining whether such Charter provisions required revision and, if deemed advisable, to make recommendations to City Council for amendments to the Charter. As a result of this review, the commission recommended that several areas of the Charter be amended.

A special city election was held Aug. 9, 1986, to submit the proposed changes to the electorate for consideration. By a majority of the voters, amendments to the Charter were approved which provided for a change in the city's form of government from that of "mayor-council" (strong mayor) to that of a "council-manager" form of government which provides that the city manager be the chief administrative officer of the city.

Approval of this amendment provided for the mayor to become a voting member of Council, in addition to performing duties as presiding officer of the Council. An amendment on May 5, 1990, changed the composition of the City Council to a Mayor, four council members to be elected by single-member districts and two council members by at-large position. This composition remains in effect today with term limits of eight consecutive years.



Past Sugar Land, Texas Mayors


There have been nine mayors in Sugar Land's history:
T.E. Harman (1959-1961 and 1964-1968)
Bill Little (1961-1964)
C.E. McFadden (1968-1972)
Roy Cordes, Sr. (1972-1981)
Walter McMeans (1981-1986)

Lee Duggan (1986-1996)
Dean A. Hrbacek (1996-2002)
David G. Wallace (2002-2008)
James A. Thompson (2008-present)
---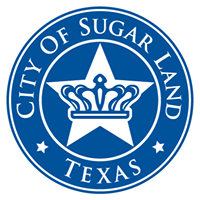 City of Sugar Land is on Facebook!
---
travel.yahoo.com
Sat Feb 15 4:38 am CST
Fair, 45°F
Sugar Land is a city in the U.S. state of Texas, within Houston–The Woodlands–Sugar Land metropolitan area and Fort Bend County. It is one of the most affluent and fastest-growing cities in Texas, having grown more than 158 percent in the last decade. In the time period of 2000–2007, Sugar Land also ... Wikipedia
Americans throw away thousands of dollars every year for rented mini-storages. Wharton Portable Buildings gives you the opportunity to own your storage building with very little down and easy monthly installments, by offering a Rent-To-Own option. Come by our lot to visit with one of our friendly team members and let them help you custom design your new Derksen building or pick your favorite from the inventory at our location in Wharton, Texas.

Ask about our FREE delivery! Make sure you meet all the delivery requirements here. Delivery space is important too.

(979)532-8254
Financing available or Rent to Own

Buy or Rent-to-Own

with No Credit Check!

Rent to own was established as an alternative to commercial storage. The low monthly rental rates are comparable to commercial storage rates per square foot, however, our Rent to Own program allows you to have your storage facility in your own backyard. You are not required to fill out a credit application, nor are you required to keep the building. If your building becomes a financial burden or if for any reason you no longer need the building, simply contact us and we will promptly pick it up and your credit will remain untarnished.
Apply online and get your Derksen portable building delivered now!
Derksen Buildings
Documents must be signed in person.
Please complete our quick and easy online application and we will call you to verify and schedule your delivery.
More Sizes Available!

Our buildings are available in custom sizes. Please contact us today and let us know what size building is right for you. We deliver almost anywhere as long as you meet our delivery requirements. Come to the Derksen Building location in Wharton, TX or give us a call.

(979)532-8254

All prices are subject to change without notice.

Time to get a Derksen Building!
Derksen Portable Building Product Line

---
Carport Sizing Chart:


12' Wide - 1 Car, Truck, SUV
18' Wide - 2 Compact Cars
20' Wide - 2 Mid-Sized Cars, Trucks, SUV's
22' Wide - 2 Full Size Cars, Trucks, SUV's
24' Wide - 2 Full or Oversized Cars, Trucks, SUV's

Options:


Full Gables
Extra Sheets
Service Doors
Extra Height
Windows
Roll-up Doors (6x7 -12x12)
Wind and snow bracing available for all buildings.

Measuring Guidelines:

We recommend that you measure the vehicles to be covered using the following procedure. Measure the width of each vehicle and then add 5' to accommodate the opening of the doors to each vehicle.

Sizes Available in 30' - 40' Wide



| | | | | | |
| --- | --- | --- | --- | --- | --- |
| 12x20 | 12x24 | 12x28 | 12x32 | 12x36 | 12x40 |
| 18x20 | 18x24 | 18x28 | 18x32 | 18x36 | 18x40 |
| 20x20 | 20x24 | 20x28 | 20x32 | 20x36 | 20x40 |
| 22x20 | 22x24 | 22x28 | 22x32 | 22x36 | 22x40 |
| 24x20 | 24x24 | 24x28 | 24x32 | 24x36 | 24x40 |

(979)532-8254

Color Choices:





Black Trim Available Also available in White


Color swatches are approximate and may vary from actual material.
Carports for every use. Come see them at our location or contact us for a delivery!
custom design and installation available
Wharton, Texas Carports are for sale at Wharton Portable Buildings
---
---
Derksen is Simply A Better Choice for your Outdoor Building!
Treated for everyday durability

LP® Smart Side® products are no made of wafer, chip or particle board. In fact, our engineered woods products are made with our Treated Wood strand Technology so you can rest assured your structure will provide years of beautiful service.

Extra Protection, Tested Tough

All LP SmartSide products are treated with our proprietary Smart Guard® process to resist fungal decay and termites in harsh environments. Tested in Hilo, Hawaii, LP SmartSide products continue to resist structural damage, even after years of exposure to thriving termite colonies and excessive moisture!

Beauty that's worth a second look

It takes only one look to notice the rich cedar grain texture and undeniable beauty of LP SmartSide products when compared to typical pine siding It's a premium choice that gives your outdoor structure an attractive custom-built look!

A warranty that protects your peace of mind

All LP SmartSide products feature a 5/50 year limited warranty, one of the best warranties in the industry. You can feel confident that you have made a better choice for lasting durability and beauty.

* 5-year, 100% labor and replacement feature.

* 50-year prorated, limited warranty on substrate.
Wharton Portable Buildings - Wharton, Texas - Derksen Buildings